Fixed Assets Accounting Software
AssetAccountant is a comprehensive accounting solution for Fixed Assets.  It is simple to use and works efficiently for both large, complex registers as well as simple registers.  It provides extensive reports, enquiries, forecasts, journal entries, Excel exports and a report writer for all reporting and integration needs.  AssetAccountant caters for all classes of assets, Fixed, Leased and Hire Purchase.
Features
Depreciation Basis and Effective Life specified for both Accounts and Tax
Depreciation Basis of Prime Cost, Diminishing Value, Div 43, Units of Use, Low Value Pool, STS and Software Pool
Provides supporting schedules for Accounts and Tax
Tracks assets by Cost Centre, Location or any Other Category
Creates comprehensive journal for posting to the General Ledger
Calculates Gain/Loss on Sale or CGT Gain/Loss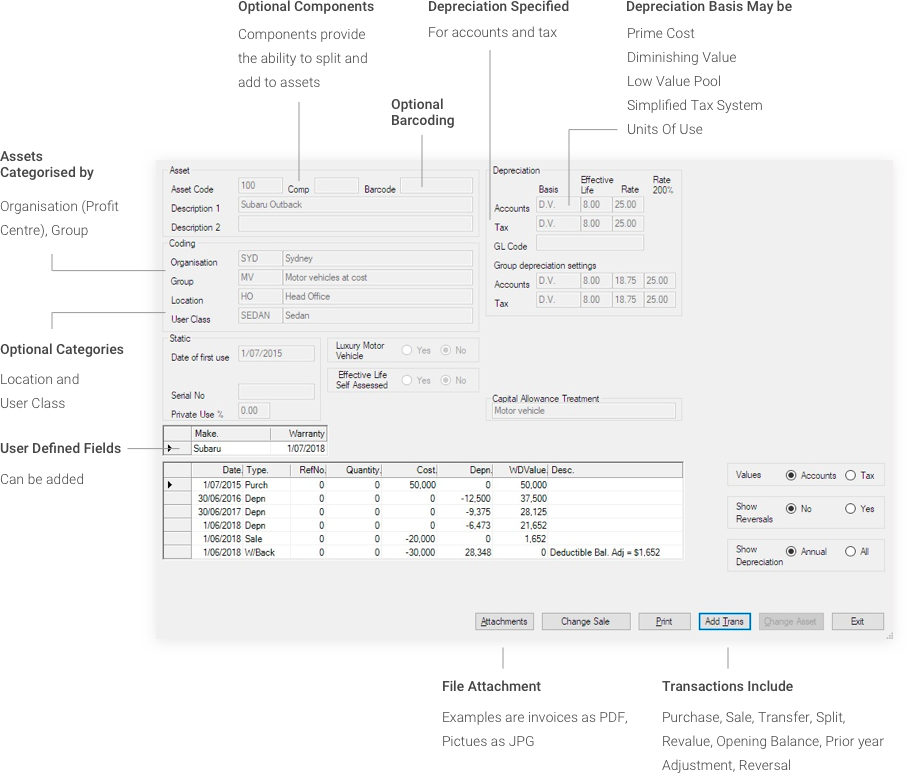 You Will Appreciate Our Fixed Asset Depreciation Program
Looking for a fixed asset depreciation program you can appreciate? Accounting humour aside if you have seriously outgrown your fixed asset spreadsheet, AssetAccountant from Lunic Software can make accounting for depreciation easy. Lunic Software, established in 2003 is an Australian based company who has made accounting easier since its release of the first version of AssetAccountant in 2004. Australian businesses and non-profits large and small trust us for their finance asset management needs. Enjoy the following features in AssetAccountant, the fixed asset depreciation program from Lunic Software:
Supporting schedules for Accounts and Tax
Asset tracking by location, Cost Centre and other categories
Effective Life and depreciation based specifications for Accounts and Tax
Diminishing Value, Low Value, Div 43, Units of Use, Software Pool and STS and depreciation basis of prime cost
Gain and loss calculation on sale or CGT
You will also enjoy free conversion from your current asset register in Excel and an automated conversion process if you're an Xlon or Solution 6 user. AssetAccountant provides thorough reporting, journals and gives you the capability when parts of an asset are sold, to enter it as a split asset. It also has robust Excel reporting features, and most transaction types can be loaded from Excel. If you're in charge of selecting a fixed asset depreciation program for your organisation, call us for a free demonstration trial of the software. Try it out and see the difference it can make to impact your accounting workload. We're confident that we have the best solution for you and allow you to try before you buy.